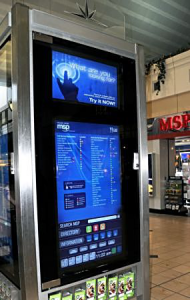 There is no doubt that touch technology has revolutionized the way humans interact with computers and many forms of smart devices. These new screens make it convenient for everyday people to conduct banking transactions, to view products and to access and share all sorts of information.
Way back when touch screens first appeared, their relatively small sizes and high cost prevented them from being used widely. They were only used mostly on the latest smart devices. Now that further technological advances have allowed even large touch screens to be manufactured at lower costs, entrepreneurs are finding innovative to ways use them.
Innovative Uses of Large Touch Screens
Business establishments, organizations and even government departments have begun using large format touch screens in many innovative ways. Since affordability is no longer a big factor, it is the intended use which is the most important aspect. Here are some of the most innovative uses of large touch screens:
Interactive boards in classrooms: There is no reason to put up with regular whiteboards or passive screens when you can use interactive touch screens instead. These allow and even encourage full student participation which improves lesson retention. Lessons can also be presented in much more interesting ways especially using one of many educational applications available.

Interactive screens for ordering at restaurants: Some restaurants have already integrated touch screens on their table tops. Through this screens the customers can choose from available dishes, specify any upgrades and even get to see the final bill. Some fast food chains are also considering using these to allow customers to build their own pizzas or build their own burgers. The touch screens allow the clients to visualize their order and to compare it to their budgets without asking a waiter for help.

Interactive maps: There are many interactive maps now deployed in train stations, bus stations, and in strategic downtown areas. These help commuters and tourists get around effectively. However, such interactive maps are also used in malls, trade shows, government buildings, hospitals, and many other places where people may need help finding their way around or understanding procedures.

Game screens in arcades: Now that large touch screens are affordable, many arcades have started installing popular smart phone and internet games on them. They are popular since many people already know how to play the games, and playing on a big screen is just more enjoyable.

To display exhibits in museums: With thousands of items to display, having a catalogue on a touch screen makes a lot of sense. Through them museum visitors can peruse more of their inventory, retrieve location information, and focus on the things that really interest them.

Interactive store displays: Many retail outlets have started to use touch screens to display their wares. This frees up a lot of display space, reduces the need for merchandisers, and makes it more convenient for consumers to shop. This online article discusses how touch screens affect consumer experience.
With their many benefits, you can expect to see more large touch screens used in even more ways in the future.